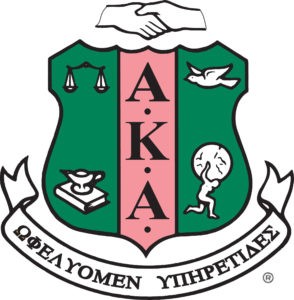 AKA HISTORY
One-hundred and thirteen years ago (January 15, 1908), on the campus of Howard University, a group of college-educated women sought "to cultivate and encourage high scholastic and ethical standards, to promote unity and friendship among college women,  to study and help alleviate problems concerning girls and women in order to improve their social stature, and to maintain a progressive interest in college life."
With those high standards of excellence in mind, Alpha Kappa Alpha Sorority, Incorporated ® was founded and later incorporated on January 29, 1913.
In its second century, Alpha Kappa Alpha Sorority, Incorporated continues to render "Service To All Mankind".
For more information about this illustrious sisterhood, please visit our international website at  www.aka1908.com
AKA MEMBERSHIP
Since Psi Gamma Omega chartered in 2006, we have provided the time-honored tradition of "Service to All Mankind" in the Northern Orange County area.  We continuously plan and participate in activities that are in correlation to our International Program, "Soaring to Greater Heights of Service and Sisterhood." ℠
Members of the sorority are encouraged to visit with us in hopes that you will feel inspired to recommitment with us in service to Alpha Kappa Alpha Sorority, Incorporated®.  We know you will feel welcomed by our chapter and be encouraged to reactivate and participate fully in our sponsored activities.
Psi Gamma Omega is working together with heart and soul to make Northern Orange County a better place. All we need now is YOU!!
Our meetings are held on the first Saturday of each month at 11:00 A.M.  Meetings typically last 90 minutes, unless otherwise noted due to a chapter activity/event.  Visiting members are asked to bring some form of AKA membership authorization and a picture ID.
For more information, please contact our Membership Chairman, Pamela Powell, at [email protected] to the attention of Membership Inquiry.
REACTIVATION
Information regarding reactivation can be found on the AKA Corporate Office website. The reactivation form is to be used only if you have been inactive for one or more years.
TRANSFER
To transfer chapter membership, please read and complete the forms regarding transfer on the AKA Corporate Office website. Before transferring membership into Psi Gamma Omega, you must obtain clearance from your former chapter.
PROSPECTIVE MEMBERS
New membership to a graduate chapter of Alpha Kappa Alpha Sorority, Incorporated® is by invitation only. For more information regarding the criteria, please visit the AKA Corporate Office website.
We look forward to the wisdom, spirit, and sisterhood that your membership will bring.
MARVELOUS MID-ATLANTIC REGION
The Marvelous Mid-Atlantic Region is comprised of North Carolina and Virginia and has approximately 13,000 members hailing from roughly 130 chapters.  
The Psi Gamma Omega Chapter is part of the Northern Carolina Cluster, one of five clusters within the region. Our Northern Carolina Cluster Coordinator is Iman Moore. 
Under the direction of our Regional Director, Nadine Vargas Stewart, the Marvelous Mid-Atlantic Region, with the theme of C.O.N.N.E.C.T.S, Creating Opportunities to Network and Nurture with Excellence, Character and Transparency, continues to thrive as we render Service To All Mankind through our implementation of the international programs.
For more information about our region and its leadership, please visit our regional website at http://aka1908.com/midatlantic