Chapter Chartering History*
On October 26, 2003, at the Magnolia Restaurant in Durham, Regional Director Dr. Caroline Lattimore hosted a dinner to address requests of Interest Groups. The East Wake Ivy Club and the Hillsborough Ladies were invited. Also present was a small group of general members who lived in Durham.
Members of the group began to school themselves in the operation of the Global Platforms of Alpha Kappa Alpha Sorority, Incorporated and also began to implement local community initiatives with comparative educational and charitable volunteer work.
Lavorne Pratt-Walker posted the first letter (dated November 18, 2004) to Regional Director Dr. Caroline Lattimore listing five reasons to charter an Alpha Kappa Alpha Sorority Chapter in Hillsborough, NC: (1) A group of dedicated, enthusiastic, professional and committed Ladies of Orange desired to carry on the name and services of their beloved Alpha Kappa Alpha Sorority; (2) Ivy Beyond the Wall Viola Crowder had tried to recruit twenty-five General Members to form a chapter but she died before her vision materialized; Three members of that initiative were in the Ladies of Orange Interest Group; (3) The Hillsborough community, which was expanding tremendously with incoming General Members to live and work in the area, could adequately support a chapter; (4) No other Alpha Kappa Alpha chapter existed in the City of Hillsborough, NC and (5) the location of Hillsborough, NC, was an excellent area for recruitment and growth to sustain the chapter. 
Immediate focus was on chartering procedure, member responsibilities, chapter operational details, financial obligations and public relations. After a period of intense preparation and community service as the Ladies of Orange, Psi Gamma Omega Chapter of Alpha Kappa Alpha Sorority, Incorporated®, was officially chartered in Hillsborough, NC on June 17, 2006.
There were twenty-nine charter members under the continuing leadership of President Millicent Rainey, Vice President Lavorne Pratt-Walker, 15th Mid-Atlantic Regional Director Dr. Caroline L. Lattimore, International  Secretary Carolyn House Stewart and 26th International President Linda M. White (deceased).
Charter Members: Sonya Terry, Sylvia Smith, Zelma Crisp, Patricia Hollingsworth, Mariah McPherson, Rosa Williams, Millicent Rainey, Caroline L. Lattimore (15th Mid-Atlantic Regional Director), Lavorne Pratt- Walker, Letitia Howard, Delores Simpson, Aretina Mangum, Marie Spencer, Alisa McLean, Lynette Jeffries, Jeraline Harrelson, Janet Herring, Mary Boyd-Gilbert, Evelyn Hammond, Gloria Berry-Holly, Tamesha E. Thompson-Eleanya, Patti Thompson, Lucy Lincoln, Tammy McNeil, Yolanda Leonard, Tameka Cloud and Kathy Hick (Pictured- first row left to right and second row left to right; Jerry Head, Photographer).  
Pictured: Raenel Edmonds, Leticia Mack, Beverly Scarlett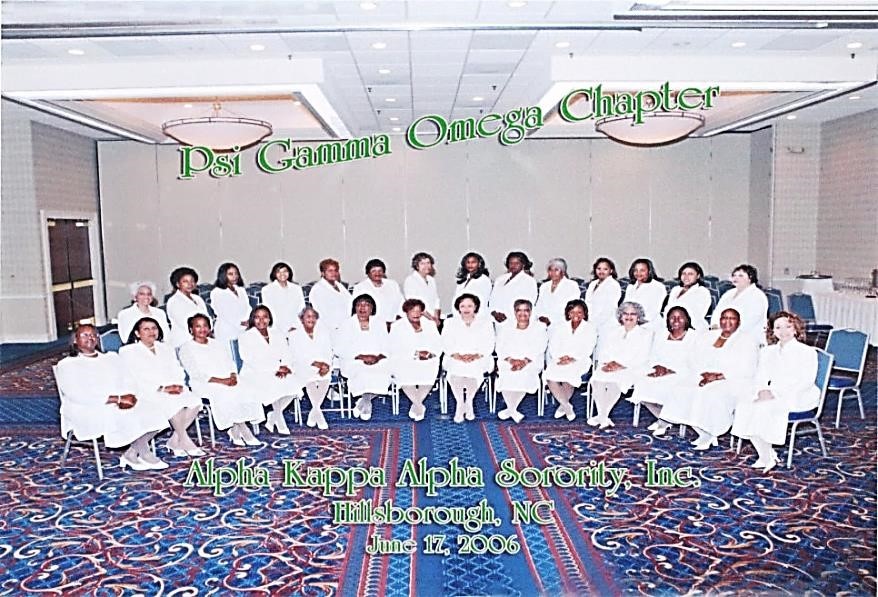 An outstanding Intake Class of thirteen members enriched Psi Gamma Omega Chapter's talent resources in January 2009. Welcomed into membership were Patricia Harris, Brenda Stephens, Shawan Wilson, Christian Hairston, Gabrielle Leonard, Keshetta Henderson, Katrina Mattison – Chalwe, Victoria Mattison, Linda Farrish, Catherine Nicholson, Maggie Holly, Ashlye Thorpe and Darlene Stafford. Patricia Harris is now an Ivy Beyond the Wall.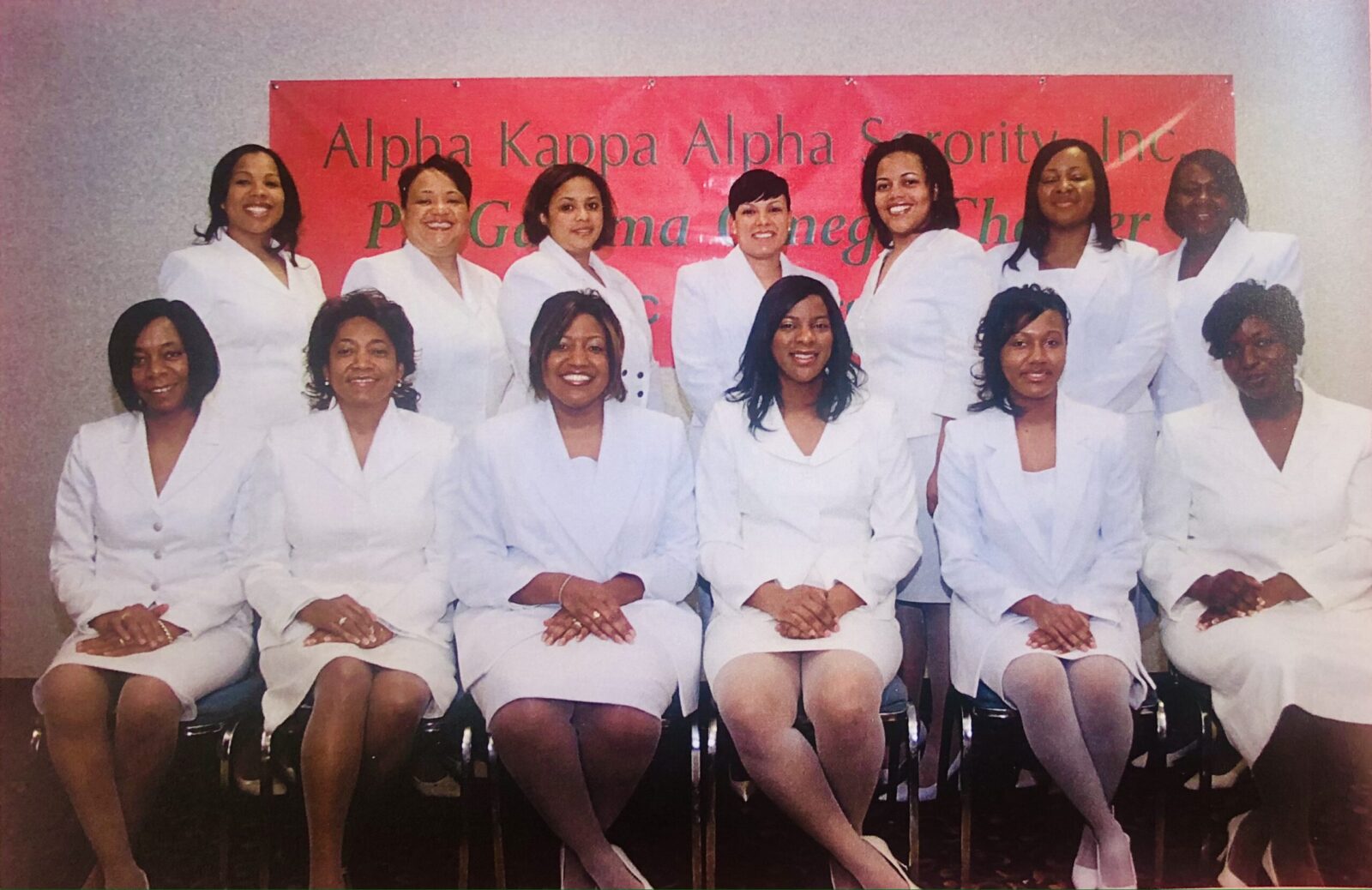 In October 2016, Psi Gamma Omega would once again have a membership intake class; this time of nine professional women to include Natasha Ashe, Leigh Barnwell, Allie Bynum, Ameisha Cooper, Tyler Evans, Natasha Jones, Pamela Powell, Sara Stephens, and Courtney White.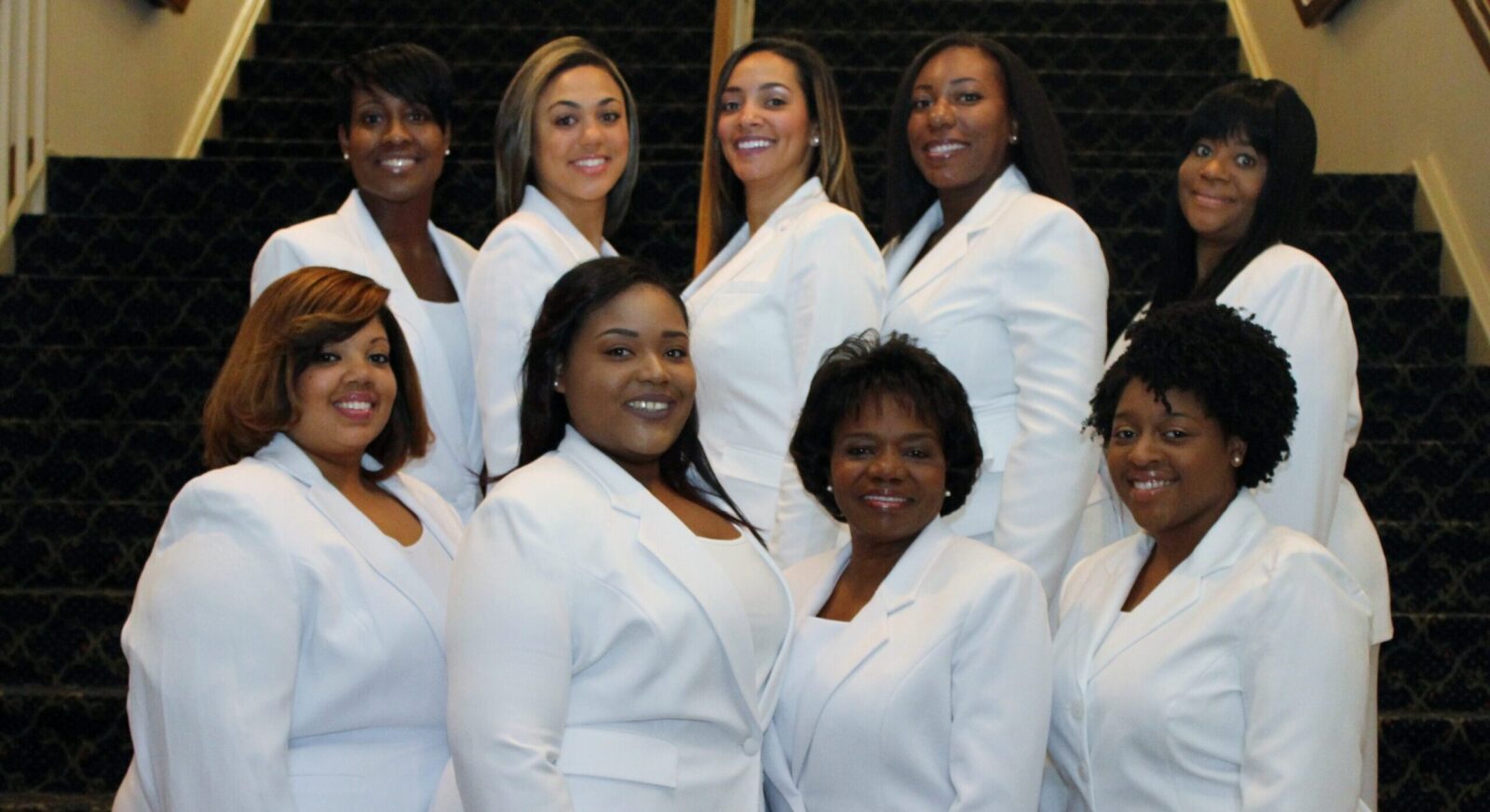 President Maggie Holly would welcome another intake class into our chapter on Sunday, December 17, 2017.  These nine ladies include Latida Adams, Natehya Allen, Bria Berry-Holly, Candace Farrish, Shannon Farrish, Chandra Midgette, Aissa Langhorne, Tamala Philpot, and Stephanie Smith.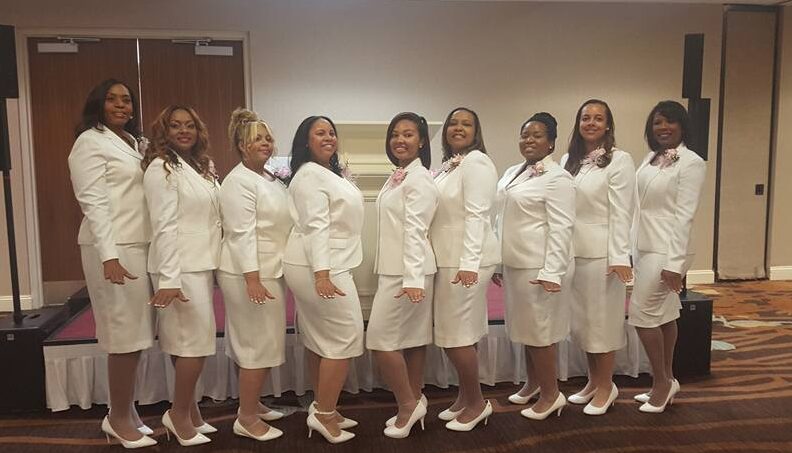 Psi Gamma Omega Chapter continues vibrant growth and involvement during the subsequent presidential terms of Lavorne Pratt Walker, Letitia Howard, Rosetta Glover, Gloria Berry-Holly, Maggie Holly, Keshetta Henderson, Natasha Adams, and currently Brenda Stevens.
In addition to the required National Platforms, the Chapter receives exceptional community support for its annual Pink Hearts Ball, Mother Daughter Scholarship Tea, Back to School Give-a-way, Fall Golf Tournament, and Pancake Breakfast. Individual members, as well as the chapter, have received numerous awards for community service and exhibits. A comprehensive listing is now recorded in the recently published History book which is published by demand.
*This is excerpted from Alpha Kappa Alpha Sorority, Incorporated® Mid-Atlantic Region Psi Gamma Omega Chapter History of Selfless & Timeless Service.  The complete chapter history may be found within its pages. (bold info only)